NEWS
Academy of the Ministry of Finance Strategy Document 2021-2025
11.11.2021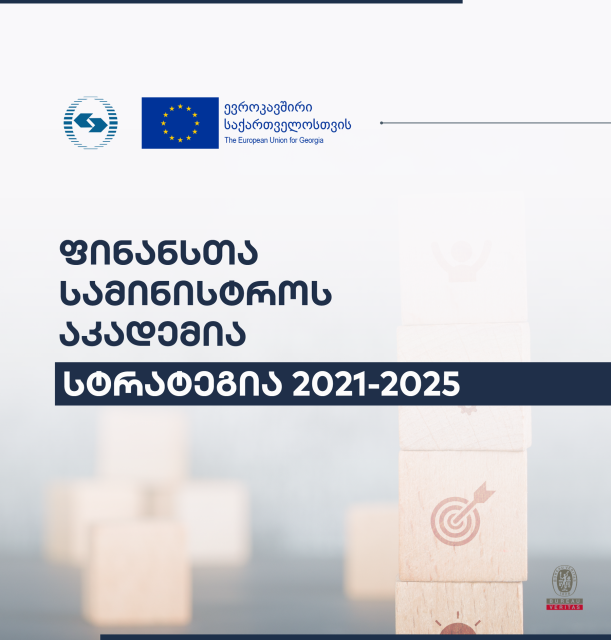 Over the years of successful operation, the Academy proved its vital role amongst the public, private and international sectors. Based on the 2015-2020 strategy, Academy played important role in developing and enhancing the skills and capacity of the Civil Servants of the Ministry of Finance of Georgia, as well as other civil service and private organizations.
With the help of EU funded projects, the Academy created the 2015-2020 strategy with six main goals. With the motivation and full awareness of the team members of the Academy, as well as a clear written process of the strategic goals, the Academy fulfilled all the objectives outlined in the outdated strategy.
With the active involvement of the EU delegation in Georgia and its experts, the Academy updated its strategy to 2021-2025 based on the latest developments and also trends of the next future.
The strategy documents are created through the inclusion of every member of the staff, to ensure all opinions and motivation to support fully the set goals.
The new strategy has a basis of prior experience and knowledge; therefore, all the strategic goals are based on concrete plans and concepts.
Strategic goals echo contemporary challenges and trends. Effective implementation of the strategic goals will be the guarantee for the Academy to continue its successful path through the strategy period, as well as plan in advance to respond to emerging needs along the way.
Academy will fulfil and implement the updated strategy by project management Hybrid approach. Alongside with the management of the Academy, departments below will be responsible for delivering results in the updated strategy.